We'd love to have you come along and share the wonders of the starry sky with us!
The Scenic Rim Astronomy Association (SRAA) is a group of around 30 people who like to come together with their binoculars and telescopes to enjoy looking at the Moon, stars, planets, nebulas, galaxies and more under a dark sky, and we love to share the sights with anyone who's interested.
We usually have 5 – 15 telescopes of various sizes and types, the largest having a diameter of 56 cm. Their owners will be happy to show you through them and explain what you are seeing. See our meeting calendar below for a list of dates. Visitors are welcome on Viewing nights.
We are based at the Old Laravale school (on the cricket pitch as it happens), which is an easy 80-minute drive from Brisbane CBD, 10 mins south of Beaudesert, and offers a dark sky for great views of many fainter "deep sky" objects.
If you'd like to visit us, please note the following points:
Please email (secretary@sraa.org.au) or phone us in advance on 0431 436 500 to confirm you are planning to come. If the weather looks cloudy, call to see if observing is on.
Directions from Beaudesert: Set your navigator for 77 Christmas Creek Rd, Laravale. At Laravale, instead of following the highway round to the right over the bridge, go straight ahead onto Christmas Creek Road. After 600m on the left, you'll see the sign for Old Laravale School, and a flag for the SRAA. Come through the gate, then head straight up the road about 70m. You'll see a toilet block on your left and two shipping containers on the right. Park downhill from the toilet block, or next to the shipping containers (or wherever suits). We'll be beyond the shipping containers.
We recommend you arrive while it's still light (around sunset) so you can easily park and orient yourself with the observing location. See the sunset table below. We'll be there from 3.30pm. If you come in the dark, drive in using parking lights if possible and park as best you can, then walk to the shipping containers.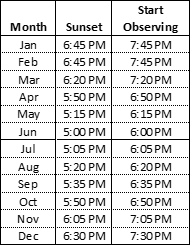 You can BYO food and drinks – you're welcome to use our BBQ, microwave or kettle. We tend to eat at dusk so we're ready to go once it's fully dark.
It's dark enough to observe an hour after sunset (see table above). We usually go until 9 or 10 pm. You can leave any time.
Things to bring:

In cooler weather (even in warmer weather!), bring plenty of warm clothes (think coat, beanie, gloves, scarf, warm shoes). You'll be standing or sitting around for a period outside – you may get colder than you expect.
A small, dim flashlight, preferably red (use a red LED or red cellophane – as red light won't disturb your night vision). Your phone screen (not the torch) makes an OK flashlight. Set your phone up to have a red screen, which helps a lot (see below).
We have tables and chairs, but bring a folding chair if you like.
If you have binoculars or a telescope, bring them along. We'll be happy to show you how to use them.

If you are new to amateur astronomy, we recommend you read as much as you can. This page is a great place to start. Buy a copy of Astronomy 2022 – it's a great all-round introduction to astronomy, what's in the sky and how to observe it. Or download a free monthly star chart from here (make sure you get the southern edition). You could look for books at your local library. SRAA members can also advise you.
How to Turn Your Phone Screen Red for Stargazing
iPhone
Select the Red Colour Filter

Go to Settings –> Accessibility –> Display and Text Size –> Colour Filters

Next, enable Color Filters with the switch at the top of the screen, then select Color Tint as your filter. From here, scroll down just a little further, then use the Intensity and Hue sliders to make the red effect more prominent. Both should be in the far right position for maximum redness.

Next, set up a shortcut so you can triple-click the right side button to turn the screen red

Go to Settings –> Accessibility, then scroll all the way to the bottom and select Accessibility Shortcut.

Choose the Color Filters option from the list, and you're done. Now every time you triple-click the button on the right side of the iPhone, it'll switch between normal screen and red tint.
Android
There is no built-in method, alas.
You can set up Settings > Display > Night mode (but it's not very red).
The best option is to download a red light app. The ones below are well reviewed, but haven't been tested by SRAA. Some are free.
NightVision Light (well reviewed)
DarkLight (v. well reviewed)
Night Filter
Twilight (free)
Red Light